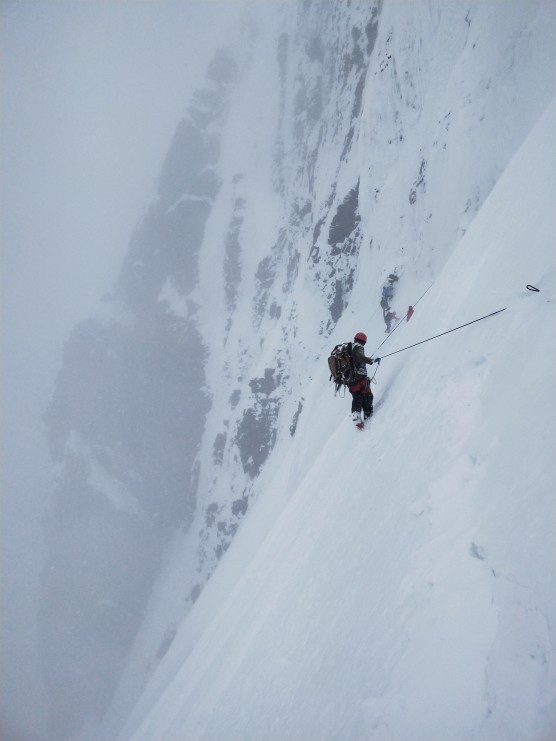 Last week, just prior to going on Thanksgiving break here in the States, I shared word that Korean climber  Sung Taek Hong, along with his Spanish climbing partner Jorge Egocheaga had abandoned their attempts to summit the South Face of Lhotse. This information came by way of Lakpa Sherpa, who was managing the team's Base Camp logistics and support staff. But, as of that time, we hadn't heard anything officially from Hong himself. Over the weekend, he finally broke his silence and did indeed confirm the expedition was over.
On Saturday, Hong revealed that he had given the climb one more go, but was turned back due to high winds and extremely cold temperatures. According to The Himalayan Times, the Korean climber returned to Kathmandu over the weekend and shared some details of the climb, including setting out on November 20 for a summit bid, reaching as high as Camp 4, spending a night at that point, and then turning back the following day.
This is Hong's fifth attempt at this route, which has only been successfully completed once before. Russian mountaineers Serguey Bershov and Vladimir Karataev were able to make the ascent along the South Face back in 1990, but it has yet to be repeated again.
Hong says he will now return home and evaluate the expedition before deciding if he will return next year. He calls this climb his "lifelong dream," and seems as though he isn't ready to give up on it just yet. Still, only time will tell if he is ready to return to give it another go in the future.
Meanwhile, The Himalayan Times is also reporting that Austrian climber Sabrina Filzmoser has successfully climbed Ama Dablam, spending just six days on the mountain. She completed the ascent on November 23, topping out alongside Mingma David Sherpa. The pair started the climb in Lukla on November 19, and were back off the mountain by this past weekend.

Filzmoser is a top Judoka, having competed for years in judo tournaments and competitions around the world. In fact, she has won bronze medals at the European championship on two occasions, finished 7th in the 2012 Olympic Games, and is currently the reigning silver medalist in Europe as well.
According to the Times, she has also participated in a program called "Judo for Peace" in Nepal, demonstrating her sport to young Nepali children and visiting training centers throughout the country.  While in the Himalaya, she has also climbed the 6189-meter (20,305 ft) Island Peak back in 2013 and the 8163-meter (26,781 ft) Manaslu last year.
As mentioned previously, the climbing season is all but over for the Himalaya this fall. There are likely a few more stories like this one that will emerge before it is completely wrapped up, but for the most part the season is over. We'll now look ahead to the winter and a busy spring season in 2018 instead.
Latest posts by Kraig Becker
(see all)