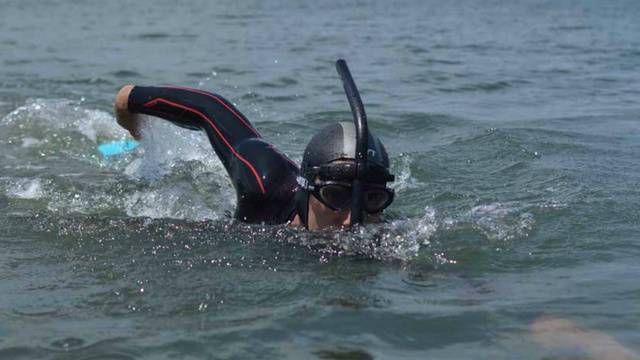 In the world of endurance sports, which sees runners routinely cover 100 mile (160 km) distances and  cyclists ride for thousands of miles, perhaps the long distance swim is the toughest undertakings of all. If that's true, then long-distance swimmer Ben Lecomte is about to embark on what could be the most difficult expedition ever, swimming across the Pacific Ocean from Tokyo to San Francisco, covering some 5500 miles (8851 km) in the process.
Ben has dubbed his journey The Longest Swim, and he is nearing the start of this massive undertaking, during which he is partnering with Seeker to get the word out on environmental threats to the ocean.. He expect the Pacific crossing to take somewhere between six to eight months to complete, during which he'll be swimming eight hours a day, everyday for the entire trip. He'll be shadowed by a support ship of course, which is where he'll rest each night, before taking to the water again the following day. The location from which he exits and enters the water will be closely marked so as to ensure that he actually swims the entire distance and doesn't pick up ground while aboard the ship.
This isn't Ben's first major swimming journey. Back in 1998 he also became the first man to swim across the Atlantic Ocean without the use of a kick board. That journey covered 3716 miles (5996 km) and took 73 days to complete. The Pacific swim will require a minimum of 180 days, with even bigger challenges to face along the way.
Lecomte first announced The Longest Swim back in 2015 but it has taken a few years to get all of the logistics worked out. Now, he is truly ready to get started, although the official launch of the crossing has yet to be announced. The team has arrived in Tokyo and are busy stocking the boat and ensuring that everything is ready to go, but there is no definitive word on when things will get under way. It seems likely that they'll begin soon however.
We'll keep an eye on Ben's progress on what promises to be one of the most amazing feats of endurance imaginable.
Update: It looks like Ben is aiming for a June 2-4 start date to his Pacific Swim. I'm told that he and his crew are waiting for a spare part to arrive in Japan before they set out in a few days time.
Latest posts by Kraig Becker
(see all)