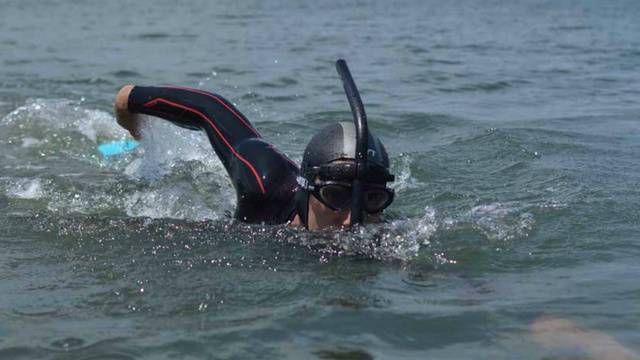 A few weeks back I posted a story about the ambitious plans of long distance swimmer Ben Lecomte, who plans to swim across the Pacific Ocean. At the time, he and his support team were en route to Japan and their starting point for the what he calls The Longest Swim. On Tuesday of this week, Lecomte plunged into the water at last and began his epic journey, which is sponsored by Seeker.
In a blog post published on The Longest Swim website, Lecomte announced the start of the expedition saying:
"It was a day loaded with emotions; I was finally going to start the swim after so many years dreaming about it and 7 years of tumultuous preparations, I couldn't be more excited about it. But it was also difficult to know that I was leaving my friends and family behind."
What follows is an emotional story of saying goodbye to his wife and children – who swam the first 50 meters with him – before turning out to open ocean. His first day on the water wasn't half bad either, despite chilly temperatures. The French swimmer set off at 3:00 PM local time and swam for a little more than 6 hours, covering a distance of 9.6 natural miles (11 miles/17.7 km) before stopping for the night. That's a solid start while he gets accustomed to his routine, but he definitely has a very long way to go before he is done.
Over the course of the next 180 days or so, he'll be swimming 8 hours a day and resting each night aboard a sailboat that will shadow his every move. The boat is helmed by his support crew, who will provide food and water and be there to lend assistance where needed. Each night, the ship will drop anchor and stay in place, ensuring that Lecomte doesn't unintentionally drift off course, picking up extra miles or losing them while en route. This will be his routine for the foreseeable future, with nothing but the vast ocean sitting in front of him.
You can follow Ben's progress on The Longest Swim website where the team will post regular updates.
Latest posts by Kraig Becker
(see all)