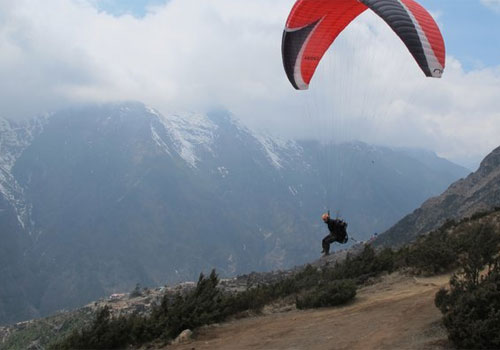 As I mentioned in my earlier post, it was another busy weekend on the world's tallest mountain. By some accounts, there could have been upwards in the neighborhood of 200 summits, although we'll have to wait for the dust to settle before we know for sure. One summit, and more importantly, one descent, is worth nothing however, as Babu Sunuwar and Lakpa Tshering Sherpa flew a tandem paraglider off the top of the mountain, and had what must have been one amazing ride.
Many mountaineers will tell you that while the climb to the summit is a grueling slog, the descent can be just as challenging. On the way down you're exhausted from so many hours at altitude, and the adrenaline rush has long since worn off. But Babu and Lakpa avoided all of that by launching their paraglider from the summit, and gliding back down the Khumbu Valley in style.
The pair didn't descend back to Everest Base Camp however. Instead, they kept on flying, covering more than 20km (12.4 miles) in total, before landing in Namche Bazaar. That means they not only eliminated the tough descent back to EBC, they also took away a couple of days on the trail trekking back down the valley as well. I'm sure there are plenty of other exhausted climbers who would love to have been able to take this express flight as well.
I'm hoping that one of the two men on the glider remembered to bring a helmet cam for what has to be some amazing footage of their descent. Gliding above the highest mountains in the world, then slowly making a descent over the course of 20km, must have been amazing. Having made the trek just from Base Camp back to Namche myself, and covering that ground in two days, I can appreciate this method of travel. While their friends are still packing up and preparing to head down the Khumbu, Babu and Lakpa are kicking it in a Namche teahouse, enjoying good food, and shooting pool in the local billiards parlor. (I don't even want to think about how they got those pool tables up there!)
This is a very cool story, and hopefully we'll at least get some more photos in the days ahead.
Latest posts by Kraig Becker
(see all)