While those of us in the U.S. took a few days off from work to give thanks for all the good things going on in our lives, the Antarctic explorers pressed on with their expeditions amidst a host of on going challenges.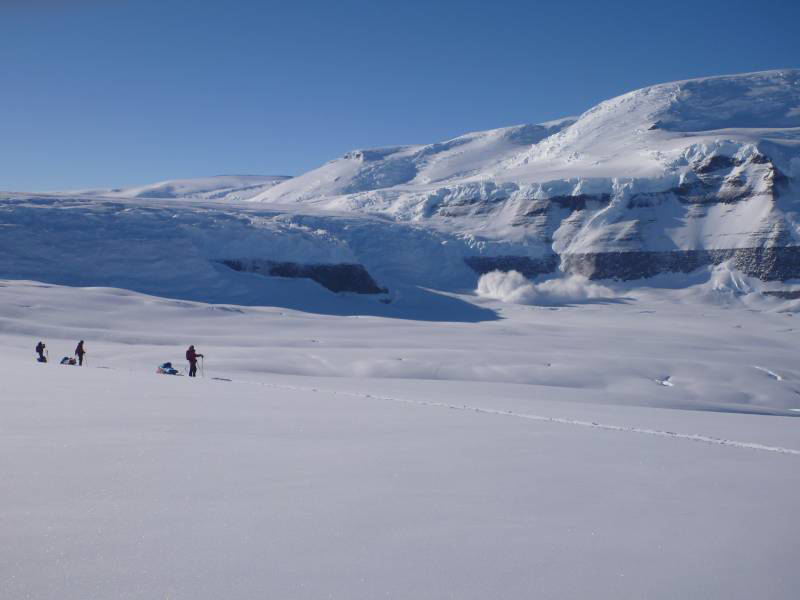 One of those explorers who is happy to be underway at last is Felicity Aston. After waiting out a ten day delay, Felicity arrived in the Antarctica more than a week ago, only to have further delays due to mechanical problems with the plane. On Friday she was transported to her starting point on the Ross Ice Shelf, and started the first leg of her journey, which will see her traverse the continent via the South Pole, ending at Hercules Inlet. Aston has been sending regular tweets from the ice, keeping us all well informed of her progress, and so far it seems that she has been doing very well. Aside from a rough day with high winds, the expedition has gone about as well as can be expected in these early stages.
Dixie Dansercoer and Sam Deltour seem delighted with their choice of restarting the expedition. They've been back out on the ice for a week now, and have already started to cover some excellent distances thanks to strong winds and their kite skis. The pair took yesterday off to recharge the batteries on their equipment as well as their own personal energy reserves, but they're back on the trail today, covering 76.7 km (47.5 miles). Thats a far cry from the early days of the expedition, when they struggled just to get a few kilometers each day.
Cas and Jonesy have also elected to take a rest day today in an attempt to let their bodies recover. The Aussies have been out on the ice for 29 days already, and while progress was initially quite slow, they have now enjoyed some better days and he pace has picked up appreciably. Both men are feeling plenty of aches in their achilles tendons and toes due to the physically demanding cross-country skiing that they've been enduring over the past several weeks, and they've also developed an uncomfortable, and downright painful, rash as well. They are also keenly aware of the clock ticking against them, as the Antarctic season will end on January 24th, and while that seems like a long way off yet, they do have to still reach the Pole and make the return trip to Hercules.
Mark Wood has now been underway on his North South Solo Expedition for a week, and progress has been steady and sure, despite a variety of conditions that have worked against him. Mark did face a scary moment yesterday when the bindings on one of his skis broke while he was moving. A broken binding can be a massive problem for skiers headed to the South Pole, and he knew that the future of his expedition was in jeopardy, but fortunately Mark was able to use his multi-tools to fix the problem, and he was able to continue on today. Hopefully this fix was a good one, as it would be a shame if he had to battle equipment issues all the way to the Pole.
Conditions have improved for the Scott-Amundsen Centenary Race teams, who were battling whiteouts and high winds last week. The past few days have been much better however, and both squads are covering better distances, although perhaps taking a page right out of history, the Amundsen team seems to be a bit faster. If things continue like this, they'll be the first to the Pole, as they currently have just 444 nautical miles to go, while the Scott team still has 538 nmi to cover.
Finally, the South Pole 1911-2011 team are enjoying fine weather and as a result, they actually skipped a planned rest day yesterday to take advantage of the conditions. They're continuing to steam on towards the South Pole via Amundsen's route, and have approximately 542km (336 miles) remaining.
Latest posts by Kraig Becker
(see all)