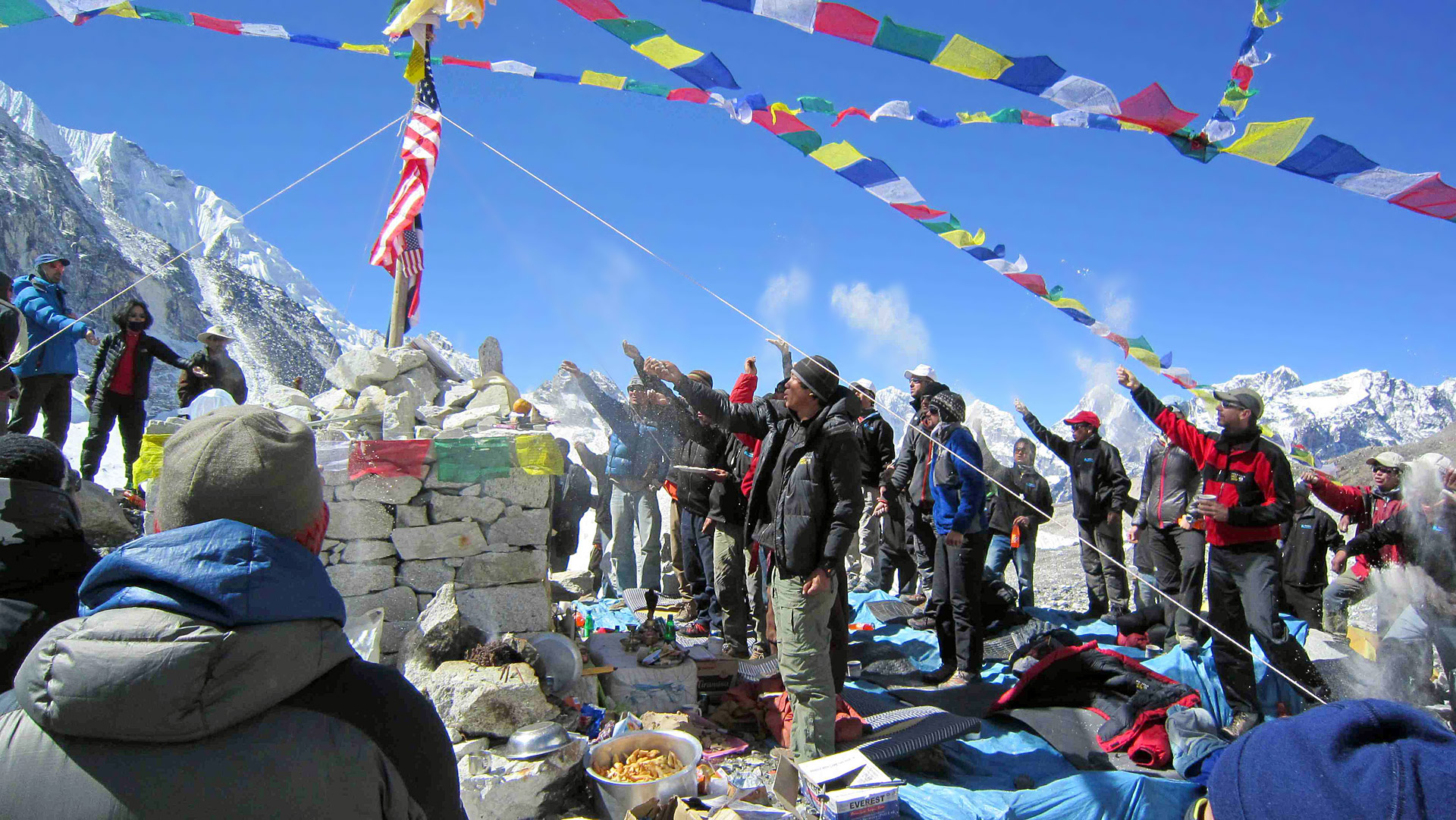 As I mentioned on Monday, the teams continue to stream into Everest Base Camp where they have started to make themselves comfortable and are busy preparing for the challenges ahead. The teams that got in early are already plotting their next moves while those who are only just arriving now are still getting settled into what will be their home for the next six weeks.
Among the new arrivals is the Himex squad who reached BC yesterday amidst good weather. They say that the word from the Sherpas is that the Khumbu Icefall is in great shape this year and may not present the problems that it has in the past. But there are some worrisome indications that the annual monsoon could return early as well, which would mean that weather windows could be few and tight in the weeks ahead. For now, the team will rest in Base Camp for five days, doing a few acclimatization walks and preparing their bodies for the climb.
Meanwhile, the IMG team has already come and gone from Base Camp. The climbers are headed to Lobuche Peak (6118m/20,075ft) where they'll practice their skills while working to on their acclimatization. Yesterday the group held their Puja Ceremony, with a local lama bestowing blessing on them and giving them permission to proceed with their climb. With that ceremony completed, the mountaineers are free to ascend to higher altitudes and the Sherpas can begin their work of stocking the camps. With that in mind, 11 IMG Sherpas were headed to Camp 1 today to carry loads of supplies and gear while another 33 Sherpas were headed up to C2 to stock the campsite there.
The Peak Freaks have been spending the last few days sorting gear and getting everyone's personal equipment together. After resting in BC since Sunday, the group is off to Kala Pattar today, where they'll trek to the top of the 5545 meter (18,192 ft) summit. This non-technical walk is also used for acclimatization and offers some of the most spectacular views of Everest that you'll find on the South Side of the mountain.
The Nat Geo/North Face team of Conrad Anker, Corey Richards and the rest have arrived in Base Camp as well, but thus far updates haven't been all that forth coming. Apparently they've had some issues with the 3G Internet service there, although they have started to tweet and post to Instagram as well. You can follow them using the hashtag #OnEverest and check out some of their photos by clicking here.
British climber Kenton Cool has arrived in BC for his attempt at his tenth summit of the mountain. He'll be carrying a gold medal from the 1924 games with him on his summit bid this season and reports that it is a cold night in Base Camp this evening. He's a veteran of all things Everest, but Ian Ridley is climbing the mountain for the first time, and earlier today he reported on his training exercises which involved learning to put in his boots and crampons on near the icefall. He says they won't actually enter that dangerous section until the weekend and until then they rest and train.
Finally, the Peak Freaks have posted another awesome video of life in EBC. This was shot last year but still gives you a good idea of what conditions are like at the base of the mountain. Check it out below.
Latest posts by Kraig Becker
(see all)