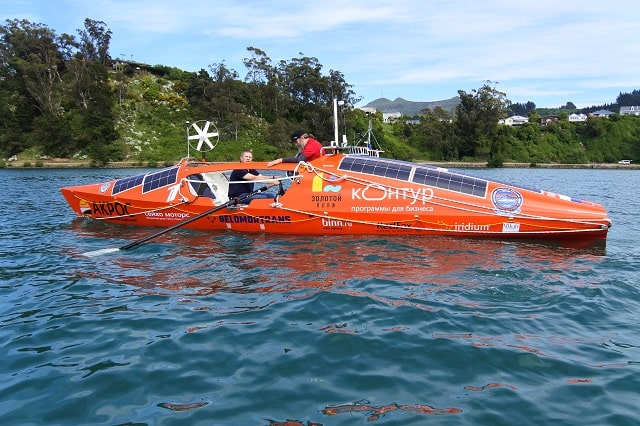 Russian adventurer Fedor Konyukhov is preparing to set out on his latest expedition and it may just be his toughest yet. The 66 year old explorer is currently in New Zealand where he is about to embark on an attempt to row around the Southern Ocean, a feat that has not been accomplished before and is even difficult for solo sailors.
The Southern Ocean row will be conducted in three stages over the next 17 months. All told, the journey will cover an estimated 27,000 km (16,777 miles) with each stage lasting about 120 days. The first of those stages will take Konyukhov from Dunedin in New Zealand to Cape Horn, in Chile. The second leg, which will get underway in December of 2019, runs from Cape Horn to Cape Leeuwin in Western Australia, while the final stage will complete the circumnavigation with the Russian rowing from Cape Leeuwin back to Dunedin. That will take place sometime in 2020.
Rowing the Southern Ocean will require patience, persistence, and endurance. The waters found there are known for their turbulent storms, unpredictable conditions, and icy temperatures. The ocean, which surrounds Antarctica, has confounded sailors for centuries, with ships being tossed about and even smashed into pieces. This year's Volvo Ocean Race even passed into the Southern Ocean and the teams did not come out unscathed several of the vessels were damaged and one sailor died after being tossed overboard in rough weather.
Konyukhov is no stranger to long and difficult expeditions. The man has taken part in some of the most difficult and demanding journeys imaginable, including skiing to the North Pole on five separate occasions, as well as traveling to the South Pole. He has climbed Everest twice, sailed around the world solo, circumnavigated the planet by hot air ballon, rowed across the Pacific Ocean, amongst numerous other adventures. He is, quite simply, one of the most accomplished explorers and adventurers on the planet, and this Southern Ocean row is just the latest in a long line of challenges he has faced.
This isn't the first time we've seen someone attempt to row the Southern Ocean. British adventurer Olly Hicks embarked on a similar journey back in 2009, but after weeks toiling at sea he ended up only making it from Australia to New Zealand, crossing the Tasman Sea. That was a first for any person, but it took 96 days to do it. Konyukhov will be leaving from New Zealand instead, but may face similar challenges as Hicks. Incidentally, the Brit is also gearing up for another go at the Southern Ocean, which is expected to get underway in December.
For now, Konyukhov has a bit of a head start and should launch his voyage any day now. His preparation is nearly complete and he's ready to set off, provided the weather cooperates. You can find out more about the Russian and this expedition on his official website, where you'll also be able to track his progress.
Latest posts by Kraig Becker
(see all)