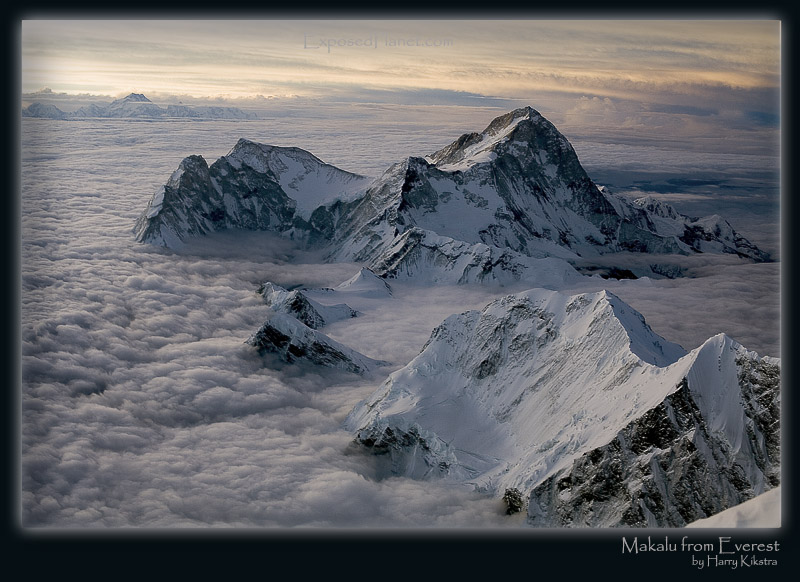 A couple of interesting, and at the same time, sad stories today of alleged crimes in the Himalaya.
First, we have a strange story over at MountEverest.net about a possible murder on Makalu. It seems that a few weeks back the Expedition Andalusia Team was fixing ropes and setting high camps on the mountain when one of their Sherpa guides slipped and fell more than 100 meters to his death. The team, both climbers and guides, spent some time retrieving the body and lowering it down the mountain. Later they attempt to arrange for a helicopter to fly to base camp and ferry the body back to Lukla, but when those attempt failed, the simply buried their fallen comrade in the ground, not far from base camp.
The team decided to return to Lukla, for what reason it is a bit unclear, but perhaps they were looking to rest and recuperate before making their final summit push. However, upon reaching that city, one of the porters told authorities there that the dead man had been pushed off the mountain by his companions. This resulted in five of the porters being arrested and thrown in jail and the team was not allowed to leave Lukla while the accusations were investigated.
All of this occurred around May 2nd, and the team had been sitting and waiting there since that time. On May 11th they were allowed to return to Makalu and finally reached base camp once more. They intend to finish their climb, and are hoping that their high camps are still in place, as they had set everything up to Camp 4 at 7700m.
Right now we have no word on whether or not there is an ongoing investigation as to what happened on the Makalu. Was the man pushed or did he simply slip as was first reported? We may never know for sure, but it's scary to think about the entire situation.
Thanks to The Adventurist for bringing this one to my attention. You can read his comments on the affair here.
If a little murder mystery wasn't enough to get you to break out your Junior CSI Kit, how does extortion sound? According to this article over at the New Zealand version ofStuff Magazine's website, Adventure Tour Managing Director Gary Cotter claims that teams in Everest BC on the South Side were forced to pay for the food and fuel of military personal that were stationed there. Cotter claims his group alone paid more than $2000 to feed the Nepalese soldiers, who were there to insure that the teams didn't break the strict code of rules set down at the beginning of the season.
Cotter went on to claim that the soldiers treated everyone as "potential terrorists" and was also quoted as saying: "It is insane. We have paid to cover the costs of the food and fuel for these guys. It is extortion to pay for your own persecutors."
Adventure Tours, which operates out of New Zealand, has 11 climbers and 33 Sherpa on Everest presently. The group has paid $110,000 for climbing permits and have played by the rules that the Nepali Government set fourth, but according to Cotter those rules "changed on a daily basis" in BC where the military did what ever they wanted.
This article was written back on May 5th, before the Chinese summit and lifting of the communications ban. I'm willing to bet we're going to hear a lot more of these types of stories once the climbers are off the mountain and out of Nepal. Many of them are ready to speak, but don't feel safe doing so just yet, fearing that if they spoke out they could have their own permits yanked and they could be sent home without a chance to climb, and a lot lighter in the wallet.
I've said it before, and I'll say it again. The stories that we'll begin to hear in a few weeks time are going to be really interesting. I'd be willing to bet a lot of money that this isn't the last report like this we'll see. Thanks to Outdoor Ed for this one.
Latest posts by Kraig Becker
(see all)