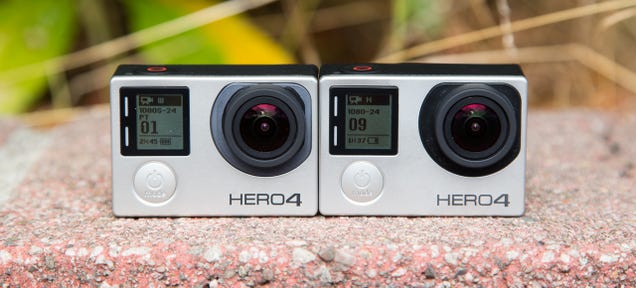 Last week I posted a story about the rumors of a new GoPro camera that was said to be launching soon. The leaked information indicated that new model would be able to capture video in 4K resolutions, and include a touchscreen for navigation of the device's settings. At the time, we didn't know much more about the product, including price or release date, but today GoPro made the new Hero 4 official, announcing two versions, as well as a new inexpensive entry model as well.
As it turns out, the rumors we were hearing last week have proven to be true. The new GoPro Hero 4 Black edition will indeed capture 4K video at 30fps, and 1080p video at up to 120fps, making it an ideal option for the professional filmmaker. The Silver edition is the model that comes with a touchscreen, and is capable of shooting 1080p resolutions at 60fps. Both models include both WiFi and Bluetooth connectivity now, making it easier to connect a smartphone or tablet to monitor what is being shot, and to manage the device itself. The camera are priced at $499.99 and $399.99 respectively, and will begin shipping to stores on October 5.
The new entry-level model is now simply called the Hero. It carries much of the same specs as the previous models, including 1080p video at 30fps, a 5MP sensor, and is waterproof down to 40 meters. The best enhancement on this model is that it now costs just $129.99, a real bargain for those who want to dabble in filmmaking without spending a lot of money.
All of new models feature a few cosmetic changes, but for the most part they resemble previous generation GoPro cameras. That meanest hey'll also fit in the hundreds of accessories and cases that already exist. That is a wise move on the part of the Hero 4 designers, as consumers don't have to start over with all of their gear.
The video below will introduce you further to the new cameras, and give you a sense of what they are capable of. Judging from the early footage, GoPro's competitors are going to have to play catch-up once again, and I can't wait to see what filmmakers do with these new tools.
Latest posts by Kraig Becker
(see all)