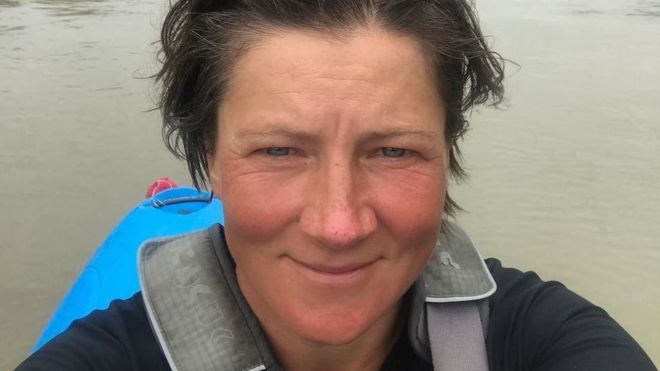 Sad news from Brazil, where it has been revealed that British adventurer Emma Kelty was shot and killed by local gunmen while attempt to kayak the length of the Amazon. Three of the suspects have been arrested, but her body has not been located at this time.
Kelty had been traveling alone, kayaking the Amazon River source to sea, when she was attacked and killed on September 13, 44 days into her journey. She was in northern Brazil at the time along a stretch of the river between Tabatinga and Manaus. This part of the Amazon is known to be particularly lawless, harboring drug runners and bandits. Emma had posted on her Facebook page that she had a run in with a group of thugs the day before she was murdered, but wrote that it was "all good."
The next day she was spotted by thugs again and they reportedly began shooting at her tent. The group of seven men then attacked her and stole some of her electronic gear. Local villagers say she was still alive when the men put her into their canoe, although she was badly injured.
Three of her assailants were later arrested when they were caught trying to sell some of her stolen equipment. Those men have told police that they were part of the gang that attacked Kelty, but that their leader was the one responsible. He is still at large somewhere in the jungle at this time. In their confession, they admitted to torturing and raping Kelty before dumping her body into the river.

Here at The Adventure Blog we followed Emma's expedition to the South Pole very closely last year, reporting on her progress regularly, and sending congratulations when she reached 90ºS. We even had a note from her at one point clarifying parts of the story on her journey. The news of her death has been a shock to say the least, and we send our condolences to her friends and family. Hopefully the men responsible for this brutal attack will be found and face justice.
This story is another harsh reminder of the challenges that we face on some of these adventures. The Amazon in particular has not been kind to explorers over the past few years, as attacks like this one have become all too common. Having been there myself, I can say that it is an amazing place, but it happens to be populated by not-so-nice people in certain areas.
In an ironic twist of fate, Evanilson Gomes da Costa – one of the bandits believed to have attacked Emma – has already met with an ignominious end. According to this story, he was shot dead by a rival gang who were looking to rob him as well. (Thanks again to Lou-Phi for the info)
Latest posts by Kraig Becker
(see all)